May is Asian American Native Hawaiian Pacific Islander Heritage Month. Parents and educators have a great opportunity to start conversations that should continue all year round. In this post, you'll find a variety of children's books about important Asian American, Native Hawaiian, and Pacific Islander history, as well as fiction that provides a window into a variety of AANHPI cultural experiences.
As you think about how to celebrate the month with children, keep in mind that there is an incredible amount of cultural diversity within the umbrella of Asian American, Native Hawaiian, and Pacific Islander. Be specific about which ethnic heritage you are learning about as you read books and discuss history.
Table of contents (click on heading name to go straight to that section of the post)
Disclosure: For your convenience, this post includes affiliate links. If you purchase items through these links, I may earn a small commission at no additional cost to you. I received review copies of Watercress, Aloha Everything, and The ABCs of Asian American HIstory from the publisher in exchange for my honest review. All opinions are my own. You can read my full disclosure policy here.
Must Read Children's Books about Asian American and Pacific Islander History: 1400s-1899
Kapaemahu by Hinaleimoana Wong-Kalu, Dean Hamer, and Joe Wilson. Illustrated by Daniel Sousa.
In the 15th century, four māhū traveled from Tahiti to Waikīkī to share their gifts of healing with the people there. Māhū are neither male nor female and in Hawaiian culture hold space between kāne and wahine. The māhū who arrived in Hawaii were "deep in voice" but also "gentle and soft spoken."
As the people experience their great healing powers, they spend an entire month erecting a great stone monument to the māhū. When the māhū were satisfied that their healing powers were stored in the stones, they were able to return to their home. The Hawaiian people kept the site as a sacred space for many centuries. Tragically, development paved over the sacred site in the 1900s. Though the stones have been recovered, the truth that the healers were māhū has been supressed. (Recommended for ages 4 – 8. Bilingual Hawaiian-English text. Native Hawaiian māhū co-author.)
Sugar by Jewell Parker Rhodes (1870)
"I hate, hate, hate sugar." That's not a statement you'd expect to hear from a child, but then most children haven't had to cut sugar cane almost their whole lives. Even though she's free from slavery, Sugar can't go North to explore other options because she's an orphan. Not only is there back-breaking work at the River Road Plantation in Louisiana; it's also lonely for Sugar. She isn't supposed to play with the one other child her age, Billy, because he's the plantation owner's son.
When Billy confides in Sugar that her father is going to bring in Chinese workers to help harvest cane, all the adults in Sugar's community are understandably wary. But Sugar just wants to talk with them, despite being forbidden to by her guardian. Never one to be obedient, Sugar forms a friendship with a young man named Beau and an older man named Master Liu. In the process, Sugar becomes a link between two groups. (Recommended for ages 8 – 12. Black author.)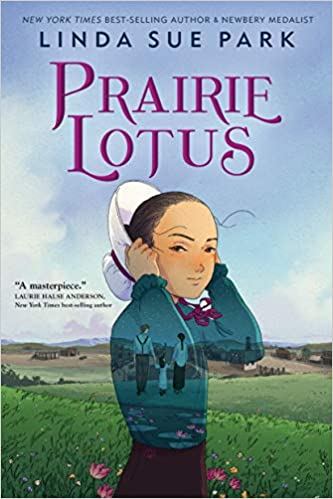 Prairie Lotus by Linda Sue Park (1880)
My 9 year old son and I devoured this book! It contains so many of the things I loved about the Little House on the Prairie series as a child, while also being actively antiracist. It also helped us imagine what life might have been like for some of the earliest Asian American immigrants.
When Hanna and her father arrive in Dakota Territory, they've been traveling for a long time by covered wagon. Ever since Mama died a few years back, Papa has been searching for a new home for them. Often, because of the racist hostility Hanna faces for being half-Chinese, they've had to move on.
But perhaps here in LaForge, Hanna can finally attend school, make at least one friend, and realize her dream of becoming a dressmaker. Her father is gruff and protective, wanting to shield Hanna from the troubles her mother faced. While Hanna knows that she'll always have to deal with racism, she also knows that Mama told her to fight unfairness where she could. (Recommended for ages 8 – 12. Korean-American author.)
Children's books about Asian American Native Hawaiian Pacific Islander history: 1900-1949

Surfer of the Century: The Life of Duke Kahanamoku by Ellie Crowe and Richard Waldrep (1912)
Olympic swimmer and legendary surfer Duke Kahanamoku lived an amazing life. This in-depth picture book teaches kids about as many aspects of his life as possible. His skill and persistence, combined with the striking paintings in the book, are sure to inspire some kids to learn how to surf and swim in the ocean.
Duke learned to swim at age 4 in the same way that many Hawaiians learned in the late 19th century: tied to an outrigger canoe, with the ocean as his swimming pool. As a teen, he knew he was an excellent swimmer. He longed to compete against swimmers from the American mainland.
When a Honolulu lawyer and swim coach timed Duke's races, he was flabbergasted at his speed. Duke agreed to take him as his coach. This started his long and twisting path to competing in the 1912 Olympics. It was a journey filled with obstacles, including needing funds to travel to the Olympic trials, and facing racial discrimination. Yet even the crowds who had jeered at him because of his skin color were soon cheering him when they saw how fast he swam. (Recommended for ages 7 – 12)
Grandfather's Journey by Allen Say
Allen Say's paintings shine in this quiet story of his grandfather's journey from Japan to California, and many decades later, his return to Japan. As grandfather wades through a sea of wheat and stands in the shadows of factories, readers sense how new and strange America must have felt to him. Though there were many things he loved about California, Grandfather couldn't stop thinking of home, of the places and friends he'd left behind. (Recommended for ages 4 – 8. Japanese-American author.)
Related Post: 11 Children's Books about Korean Culture
The Dragon's Child: A Story of Angel Island by Laurence Yep and Kathleen S. Yep (1922)
Based on the author's interviews of his father, this story introduces children to the arduous path Asian Americans faced when immigrating to the United States in the early 20th century. At age ten, Gim Lew Yep didn't want to leave China to join his father in America, but he also knew he had no choice. He thought he'd have longer before he had to leave China, but American immigration laws were changing, and his father knew they must take their chance now.
One of Gim Lew's greatest worries was passing the harsh immigration interview at Angel Island. His father told him that it was crucial that he didn't make any mistakes if he wanted to be allowed to enter the country. Gim Lew feared the pressure will make his stutter, for which he's already punished, even more pronounced. (Recommended for ages 8 – 12. Chinese-American author.)

Shining Star: The Anna May Wong Story by Paula Yoo and Lin Wang (1930s)
As a child, Anna May Wong dreamed of becoming an actress. Despite initial opposition from her family, she began her career in the 1930s as an extra. She gradually worked her way into larger roles. While she loved being able to act, she was also troubled by racist policies on the movie sets. Almost all the Asian American roles available were based on stereotypes or were demeaning to her people.
After a lengthy visit to China and conversations with her father about his experience of being an immigrant in America, Anna May vowed that she would only take on roles in which Chinese people were shown in a positive light. (Recommended for ages 7 – 12. Korean-American author.)
A Jar of Dreams by Yoshiko Uchida (1935)
Rinko isn't thrilled when her mother tells her that her Aunt Waka will be coming from Japan to stay for the summer. She'll have to give up her room, and Aunt Waka's had a rather tragic life. What if she's gloomy? Things are already hard enough, with Papa's barbershop struggling during the Great Depression. They're five months behind on their rent, and Mama has decided to start a home laundry to keep them afloat.
When Aunt Waka arrives, she's nothing like Rinko expected. As each family member faces challenges and tragedies, it's Aunt Waka who helps them discover their strengths, and how those strengths can help them get closer to their dreams. (Recommended for ages 8 – 12. Japanese-American author.)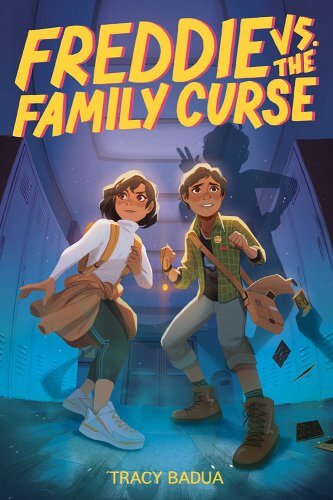 Freddie vs. the Family Curse by Tracy Badua.
While this book is set in the present day, it weaves in important Filipino history from World War II, particularly about the unjust treatment of Filipino soldiers by the U.S. government.
Freddie Ruiz isn't just accident prone; he's cursed. Even though his parents don't believe it, Apong Rosing (his great grandmother) has told him that generations of Ruizes have been cursed. Freddie knows he'll never be able to make friends and take everyday risks until he can rid himself of the curse, so when he discovers an anting-anting (amulet) in his garage, he's thrilled.
But it turns out the "good luck" charm actually contains the argumentative spirit of his great-granduncle Ramon. The fast-paced story will draw in adventure fans, while readers with a more philosophical bent will appreciate the questions raised about how much is determined by luck, and how much by our own actions. (Recommended for ages 8 – 12. Filipina-American author.)
The Fearless Flights of Hazel Ying Lee by Julie Leung and Julie Kwon (1941)
Julie Leung masterfully weaves together the barriers and discrimination Hazel Ying Lee faced as both a Chinese-American and an ambitious woman, and Hazel's fearless spirit that refused to abandon her dreams. Hazel worked an "invisible job" as an elevator operator to put herself through flight school. While people told her that no one would hire a Chinese girl pilot, the arrival of World War II changed things.
When the U.S. military started the Woman Airforce Service Pilots program, Hazel signed up immediately. She became the first Chinese-American woman to fly for the military. Though she and the other women weren't allowed on the frontlines, they risked great danger testing the planes as they came off the assembly line. Though Hazel died in a collision in 1944, her indominable spirit continues to inspire people today. (Recommended for ages 5 – 9. Chinese-American author.)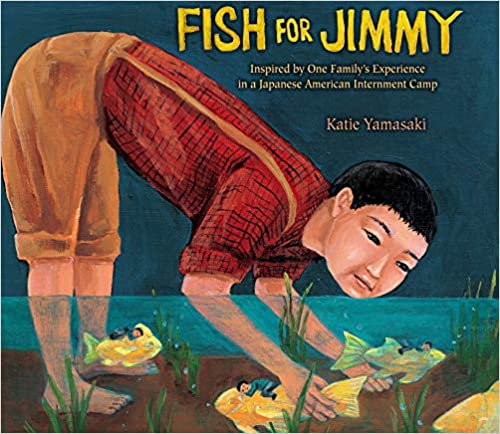 Fish for Jimmy by Katie Yamasaki (1942)
Like so many Japanese American families, Katie Yamasaki's family members were imprisoned in relocation camps during World War II. Fish for Jimmy is based on their experience.
There are few things that young Jimmy loves more than swimming in the ocean with his older brother Taro. Taro entertains him with stories, telling Jimmy that it's the fish who taught him how to swim.
But when the FBI takes Father to prison and forces the rest of the family into an internment camp, the sweetness of their California life ends. Jimmy refuses to eat, so much so that everyone in the camp is worried about him. Taro is sure that there's one thing that could lift Jimmy's spirits, and he's determined to get it for him. (Recommended for ages 6 – 10. Japanese-American author.)
Step Up to the Plate, Maria Singh by Uma Krishnaswami (1945)
When Maria's teacher announces that she wants to organize the first all girl's softball team in Yuba City, California, it's all Maria can think about. She doesn't know if Papi will let her play, especially since she'll need to wear shorts. Papi is from India, and though Maria's Mexican mother is more open-minded, she isn't sure if she'll be able to persuade him.
While Maria's fixated on playing ball, bigger problems keep appearing. Her friend Janie hasn't received any letters from her soldier father in months, making everyone in the family afraid. Her younger brother Emilio is bullied for being "half and half." Most frightening of all, Papi's landlord is moving away, and California law prohibits Papi from buying their farmland since he's Indian. Maria's never been afraid to speak up about the wrongs she sees; can she use her voice to help her family? (Recommended for ages 8 – 12. Indian-American author.)
Related Post: Best Children's Books about India

Sylvia and Aki by Winifred Conkling (1940s)
This moving chapter book, based on a true story, examines discrimination against both Japanese Americans and Mexican Americans during the World War II era. Like 100,000 other Japanese Americans, Aki Munemitsu was forced from her home into a relocation camp. The Mendez family leased the Munemitsu's farm while they were interned. The Mendez family tried to enroll their daughter Sylvia in the local school, but were told she had to go the Mexican school. (She became a plaintiff in a ground-breaking desegregation lawsuit.)
Aki, who once attended the Westminster School that Sylvia was being denied admittance to, now must live in a crowded tar-paper building in a camp bordered with razor wire. Sylvia and Aki's stories are told side by side, including how they became pen pals until the Munemitsu family was released at the end of the war. (Recommended for ages 10+)
Grab my printable list of top diverse books for every age, from 2 to 12
Plus, discover which "classic" books I don't recommend because of racist content.
You'll also get my kids and justice themed resources in your inbox each Tuesday. Don't like it? No problem. You can unsubscribe in one click.
Children's books about Asian American history: 1950 – 1979
Swimming with Sharks: The Daring Discoveries of Eugenie Clark by Heather Lang and Jordi Solano (1950s – 1980s)
Before Eugenie Clark's research gave her the nickname "the shark lady," most people thought sharks were vicious and stupid. Even as a child, Eugenie wished she could climb into the tank at the New York Aquarium to get to know these sleek, graceful animals.
Lang explains how Clark undertook and documented her research, until she was ready to found a marine laboratory that was the first to study living sharks in their natural environments. The book is perfect for budding scientists and children who love the ocean! (Recommended for ages 5 – 9.)
Queen of Physics: How Wu Chien Shiung Helped Unlock the Secrets of the Atom by Teresa Robeson and Rebecca Huang (1950s – 1970s)
Though she was born in a time when many girls in China didn't attend school, Chien Shiung's parents knew that she would be smart and brave. After all, they gave her a name that meant "courageous hero." Her thirst for knowledge soon took her away from her parents, first to a high school where she didn't see her parents for months, and later to a university where she not only studied all she could, but also campaigned for human rights.
Eventually Chien Shiung's desire to study the physics of atoms brought her to the United States. Here, her research helped other scientists win the Nobel Prize not one, not two, but three times! While many thought she should have also received a Nobel Prize, she didn't. Still, her work was recognized as so extraordinary that Newsweek magazine declared her "the Queen of Physics." (Recommended for ages 5 – 9. Chinese-American author.)
A Life Made by Hand: The Story of Ruth Asawa by Andrea D'Aquino (1950s – 1960s)
If you look at a photograph of one of Ruth Asawa's elaborate wire sculptures, you probably wouldn't suspect that her journey as an artist began with farming. But as a child on her parents' California farm, she already had an artist's eye that noticed things like the fascinating shell of a snail or the intricate web of a spider.
She was drawn to all kinds of art, from drawing in the dirt with her feet to Japanese calligraphy. It was on a trip to Mexico that a craftsperson taught her how to weave baskets from wire. Retuning home, Asawa began to experiment, finding the medium that would make her a famous sculptor. (Recommended for ages 3 – 8)
Dumpling Dreams: How Joyce Chen Brought the Dumpling from Beijing to Cambridge by Carrie Clickard and Katy Wu (1950s – 1970s)
This cheerful picture book in rhyme tells how little Jia first learned the difficult art of making dumplings from her father in Beijing. Cooking brought her joy even when times were difficult, including a move from China to the United States.
By then she's known as Joyce, and Chinese Americans friends flock to her house in Cambridge, Massachusetts for her delicious food. But when Joyce brings her egg rolls to a school bake sale, she discovers that many other people also love her food, launching a culinary career. (Recommended for ages 3 – 7)
It Began With a Page: How Gyo Fujikawa Drew the Way by Kyo Maclear and Julie Morstad (1960s)
Growing up, Gyo Fujikawa loved nothing more than filling an empty page with her drawings, imagining all that was possible. It was quite the contrast to school, where she often felt invisible among her mostly white peers. Her high school art teachers, however, did take notice, and one of them helped Gyo find the funds to attend art school.
As an adult, Gyo's ideas about art often broke rules. She traveled to her parents' homeland of Japan, but found the painting teachers there had too may rules. When she returned to America in 1941and took an illustrator job on the East Coast, she was devastated soon after. When war broke out, she was ordered to stay where she was. Her parents on the West Coast were forced from their home into an internment camp.
Years later, Gyo challenged the rules again, by drawing a book about babies that include children of all races. For years, no one would publish it, afraid of a backlash from white readers. But Gyo would not budge, and eventually her babies were brought to the page where everyone could see them. (Recommended for ages 4 – 8. Japanese-Canadian author.)

Dia's Story Cloth: The Hmong People's Journey of Freedom by Dia Cha, Chue and Nhia Thao Cha (1970s)
This unique and moving book shares the author's family story cloth. Many Hmong families have story cloths that tell family history. Dia's story cloth begins long ago in China, the Hmong people's ancestral home. It continues to their time in Laos, where they farmed and lived in peace for many years.
When war between the loyalists and Communists broke out in Laos, many people had to flee. One of the pages of the book shows the entire story cloth in one piece, and it's striking how often people are shown walking to a new land. Dia and her family escaped to a refugee camp in Thailand. After searching for a way to prove that they qualified as political refugees, they were finally allowed to emigrate to the United States.
The author tells young readers that some of the events in the story cloth make her sad, while others are good memories. "But it is important for me to remember everything the Hmong have been through," she writes. (Recommended for ages 8+. Hmong-American author.)
Grab my printable list of top diverse books for every age, from 2 to 12
Plus, discover which "classic" books I don't recommend because of racist content.
You'll also get my kids and justice themed resources in your inbox each Tuesday. Don't like it? No problem. You can unsubscribe in one click.
Inside Out and Back Again by Thanhha Lai (1975)
This novel in verse follows a refugee girl from her home in Vietnam to a confusing new life in the Alabama. On the Tet holiday, the I Ching Teller of Fate predicts that this will be a year the the family's lives will twist inside out. As the Vietnam War comes closer to their home, Ha, with her mother and brothers, has to flee to America, where that prediction feels true.
Though Ha has been through extraordinary things, she's also a typical child: jealous of her brothers and longing for more freedom. This moving, and at times funny, story gives children a unique perspective on what it's like to have to uproot your life and move to a place where you are not always welcomed. (Recommended for ages 10 – 14. Vietnamese-American author.)
Watercress by Andrea Wang and Jason Chin (1970s)
This Caldecott medal/Newberry honor book is a story much like watercress itself: both delicate and slightly bitter. Wang retells her own childhood experience of her parents' delight at seeing watercress growing on the side of the road. All the family is expected to help pick it. Andrea worries that someone from their mostly white, rural Ohio town will recognize them. She so often feels that she sticks out as an Asian American. Don't normal families get their vegetables from the grocery store? And isn't using things you got for free embarrassing?
When her mother serves the watercress at dinner that night, Andrea at first refuses to eat it. But when her mother opens up about her own childhood in China (a rare occasion), the child begins to see the watercress in a new light.
This story communicates so much through its sparsely written poetry. The detailed watercolor illustrations capture both a midwestern U.S. town and rural China with equal beauty. Watercress is a heartfelt tale helps immigrant children understand their families. It's also one that will open doors of acceptance for children who do not live in immigrant families. (Recommended for ages 4 – 8. Chinese-American author and illustrator).
Children's books about Asian American Pacific Islander history: 1980 – present
The ABCs of Asian American History by Renee Macalino Rutledge. Illustrated by Lauren Akazawa Mendez.
This alphabet themed Asian American Native Hawaiian history book introduces children to an incredibly diverse array of leaders and cultures. Each letter stands for multiple words, allowing more history to be conveyed than in some other alphabet books.
The book is a much-needed antidote to books that use the label Asian American but only focus on people of East Asian heritage. It also counters narrow and stereotypical ideas of what Asian American are like with its historical and present day examples. For instance, "H is for House, as in the House of Representatives," but it is also for "Hip-Hop, the music of the streets from the Hmong B-Boys to the Mountain brothers carving space through the beats." (Recommended for ages 4 – 8. Filipina-American author.)

Maya Lin: Artist-Architect of Light and Lines by Jeanne Walker Harvey and Dow Phumiruk (1981)
I treasure books like this one that show the connections between an artist's childhood experiences and the art they create as adults. Maya Lin grew up in a house where she was encouraged to think "with her hands as well as her mind."
When Maya was still in college, she entered the contest to design a memorial for soldiers who died during the Vietnam War. She envisioned a cut in the earth that would eventually heal to a polished edge, with names engraved from top to bottom. Her design was hung in an airport hanger along with countless others. Many famous architects and artists had also entered the contest, but names were not included with the designs.
After Maya's name was announced at the winner, people realized that she was a young woman still in school. Some people began to mock her design. (The book didn't mention prejudice against Maya because she was Asian American, but I wondered if this was also a factor.) Maya refused to change her design, knowing that it was important that everyone who visited be able to touch and see the names of the loved ones they had lost. (Recommended for ages 5 – 9)
Grab my printable list of top diverse books for every age, from 2 to 12
Plus, discover which "classic" books I don't recommend because of racist content.
You'll also get my kids and justice themed resources in your inbox each Tuesday. Don't like it? No problem. You can unsubscribe in one click.

Chef Roy Choi and the Street Food Remix by Jacqueline Briggs Martin, June Jo Lee, and Man One (2010)
Roy Choi moved to Los Angeles from Seoul when he was two years old. He grew up surrounded by Korean food made with sohn-maash, or "the flavors in our fingertips" that are created when food is lovingly made by hand. His favorite part of the day was 3 pm, when the family gathered in booth #1 of their restaurant to make dumplings.
After high school, Roy was not sure where he fit in. One day, watching a cooking show, he knew that the kitchen was the place that most felt like home. After working as a successful high end chef, the pressure became too much. When he lost his job, a friend asked him to start a taco truck, where the tacos would be filled with Korean barbeque.
It took time for his Kogi trucks to catch on, but eventually they were all over Los Angeles. Chef Roy was still hungry for more, so he started "soulful fast food" restaurants in parts of L.A. where there weren't enough good jobs or good restaurants.
Be sure to make time to experiment together in the kitchen after you read this book! (Recommended for ages 5 – 10)
Front Desk by Kelly Yang
It's the 1980s and Mia Tang and her family have been living in California for several years since they immigrated from China. When Mia's parents get hired to manage a motel, they're sure this will be the way they'll finally move out of poverty. Like many newly arrived Asian American immigrants, their jobs so far haven't paid them enough to save anything. The owner Mr. Yao is giving them a free place to live, plus money for every customer they check in. There's also a pool that Mia can't wait to swim in.
It takes less than 24 hours on the new job to realize that Mr. Yao will find every opportunity he can to take advantage of them (and that Mia isn't allowed in the pool.) But Mia is still determined to find ways to make the hotel better, so that her family can make more money. Her growing love of writing (which her mother discourages) might just be the best way to make their dream come true. (Recommended for ages 9 – 13. Chinese-American author. Be aware that curse words are used a couple of times in the book.)
Children's Books about Asian American, Native Hawaiian, and Pacific Islander Cultural Experiences
Aloha Everything by Kaylin Melia George. Illustrated by Mae Waite.
In this gorgeously illustrated fairytale rooted in Native Hawaiian culture, a special baby named Ano is born. Through lyrical text, young readers follow her journey to discover the deepest meanings of aloha. As she learns the sacred art of hula, she is surrounded by "generations of lore that the hula kept strong."
Ano can perceive the wondrous formation of the land itself, and comes to understanding the history of her journeying ancestors who arrived in Hawaii by boat. The sweeping narrative and vivid world of Aloha Everything are sure to delight adventure-loving children, while also providing an important introduction to Native Hawaiian culture. (Recommended for ages 4 – 8. Native Hawaiian author.) Learn more about the book on Kickstarter.

Nadia's Hands by Karen English and Jonathan Weiner
Nadia has been chosen to be the flower girl in her Auntie Laila's wedding, and there's so much to remember! Each of her cousins has a warning to give her about what they did wrong when they were flower girls in other weddings.
And when Auntie Laila says Nadia's hands are going to be decorated with mehndi in the traditional Pakistani way, Nadia feels anxious. She knows that the intricate designs won't wash off before school on Monday. What will her classmates think? Gazing at her hands, Nadia thinks they no longer look like her own. But when her grandmother tells her that Nadia's hands look like "my past and my future at the same time," she begins to think differently. (Recommended for ages 5 – 9)

A Different Pond by Bao Phi and Thi Bui
While other children might go fishing with their parents for fun, a young Vietnamese American boy wakes early to help his father fish for food. They leave far before dawn because his father has to go to work his second job later (even though it's a Saturday.)
This picture book sensitively captures the earthy moments of the fishing trip, while also revealing details about what the boy's father has been through as a refugee after the Vietnam War. Prejudice against Asian Americans speaking with accents is also briefly mentioned.
My 6 year old was totally absorbed by the book. He especially enjoyed when the boy's mother refers to him as the "baby brother." He may be the youngest, but the boy thinks "I am not a baby…I helped catch dinner!" (Recommended for ages 4 – 10. Vietnamese-American author.)
Grab my printable list of top diverse books for every age, from 2 to 12
Plus, discover which "classic" books I don't recommend because of racist content.
You'll also get my kids and justice themed resources in your inbox each Tuesday. Don't like it? No problem. You can unsubscribe in one click.

Uncle Peter's Amazing Chinese Wedding by Lenore Look and Yumi Heo
Everyone in the family is excited for Uncle Peter's traditional Chinese wedding – except Jenny. She's always been Uncle Peter's special girl, but today all the attention is focused on the bride Stella. As the family carries out tradition after tradition, Jenny just wants Uncle Peter to shoot basketball with her.
Maybe Jenny can make all the festivities stop if she pours out the special chrysanthemum tea that Stella is supposed to serve the family. That doesn't work, AND she has to watch Peter and Stella kiss each other – yuck! But Stella still finds a way to show Jenny just how happy she is to become her aunt. (Recommended for ages 4 – 8. Chinese-American author.)
Cannonball by Sacha Cotter. Illustrated by Josh Morgan.
Though this book about a Maori child is set in New Zealand, not the United States, I'm including it because there are so few Pacific American children's books currently published.
A boy dreams and schemes of pulling off the perfect cannonball dive. This is the way to be "someONE" where he lives. Nan provides all kinds of diving guidance, but at the very last second, he can't find the courage to attempt it. With humorous diagrams, the child describes all the advice he gets about what he needs (much of which seems to be "bigger shorts"). Instead, with Nan's support, he figures out how to achieve the perfect cannonball in his own, unique way. (Recommended for ages 3 – 7. New Zealand author.)
When Lola Visits by Michelle Sterling. Illustrated by Aaron Asis.
A young girl describes the many alluring smells of summer, especially those brought by her Lola (grandmother) when she arrives from the Philippines. She spends every minute of summer with Lola, learning family stories and recipes, and taking swimming lessons with Lola at poolside. The text is full of similes and evocative images, while the expressive brushstrokes in the illustrations bring the joy of summer to life. (Ages 4 – 8. Filipina-American author.)

Lailah's Lunchbox by Reem Faruqi and Lea Lyon
The author based Lailah's Lunchbox on her own experiences as a child. Last year, when Lailah lived in Abu Dhabi, UAE, she wanted to fast for Ramadan. But her mother told her she was too young. This year, she's finally old enough to join the month-long fast.
Now, Lailah is hesitant to tell her teacher and classmates in Peachtree City, Georgia that she's fasting. Will then even understand what Ramadan is? During lunch, Lailah sneaks from the cafeteria to the library to escape the smells and sights of food. There, the librarian helps her figure out how to share her news with her teacher and friends. (Recommended for ages 4 – 10. Pakastani-American author.)

The Name Jar

by Yangsook Choi
The Name Jar explores the pain that many Asian American immigrants experience when it comes to others correctly saying their names. Unhei is an immigrant child who has just moved to the U.S. from Korea. After she's teased about her Korean name on the first day of school, she becomes anxious about fitting in.
Unhei decides that she should choose a new name, and her friends offer her many suggestions that they place in her name jar. But then a friend shows intense interest in Korean characters. Unhei's mother tells her how her name was chosen, and she decides to keep her own name. (Recommended for ages 4 – 9. Korean-American author.)
Same Sun Here by Silas House and Neela Vaswani.
Written entirely as letters between pen pals for a school project who become best friends, this novel is both laugh-out-loud funny and heartbreaking. Meena lives in a crowded apartment in New York City's Chinatown with her Indian immigrant family, while River lives in rural Kentucky in a coal mining community.
On the surface, the pair would seem to have little in common, but each of their ability's to speak honestly to each other brings River and Meena comfort through difficult circumstances. Both children's fathers' are working far from home and only get to see them periodically. Meena's parents are studying hard for their long-awaited citizenship test, though the greatest stress in their lives is whether they will lose the rent-controlled apartment they are illegally subletting.
River faces harassment at school from kids and a teacher alike because of his Mamaw's outspoken environmental activism.When mountaintop removal causes a tragedy in his town, River understands his Mamaw's actions at a deeper level. At the same time, Meena struggles with a loss in her family. The way these two friends who have never met comfort each other is deeply moving, yet their letters are filled with plenty of odd and humorous questions and observations one would expect from children their age.
Content warning: An anti-gay slur is used several times in the book, always within a context that makes it clear this word is harmful. (Recommended for ages 10 – 14. White and Indian-American authors.)
What are your favorite children's books that share Asian American history and culture? Share in the comments!