Parents and educators often feel ill equipped to talk to kids about race. Race and racism are such complicated, painful topics. The good news is that there are many helpful children's books about race and racism that we can use to spark conversations with kids of all ages.
In this post you'll find a variety of children's book about race, from picture books to middle grades and young adult novels.
To get even more support as you talk to children about race, download my free guide,
What's wrong with saying "we're all equal?" 5 conversations about race every child needs to have.
Disclosure: For your convenience, this post includes affiliate links. If you purchase items through these links, I may earn a small commission at no additional cost to you. You can read my full disclosure policy here.
Picture books that spark conversation about skin tone, race, and racism
Be sure to check the age recommendation listed after each book!
Our Skin: A First Conversation About Race by Megan Madison, Jessica Ralli, and Isabel Roxas
This book is a must have for families and classrooms with preschool and kindergarten-age children. It covers so many topics, starting with identifying and loving your own skin tone. Children also learn why we have different skin tones, and some of the racial labels that people use to correlate will all those shades of skin.
What really sets this book for young children apart is how it explains that the made up idea of race was used to fuel racism. The authors talk about racism not as just individual people being mean, but as a way that white people get power. The book gives children relatable examples of racism that are likely to happen in young children's worlds. Finally, children are encouraged to challenge racism by speaking up, changing unfair rules, and learning. (Recommended for ages 3 – 7)
All the Colors We Are: The Story of How We Get Our Skin Color by Katie Kissinger and Chris Bohnhoff
Preschool age children are often curious and confused about where skin color comes from. This bilingual English/Spanish picture book unpacks our skin tones are influenced by melanin, where our ancestors are from, and the sun. The photographs capture a variety of families and children with many different skin tones.
Note: The book itself doesn't talk about race or use racial labels. When I used this book at our children's Peace Camp, we followed up the book by talking about the different racial labels society uses (Black, white, Latino, Asian, Native American, and Arab) and where each group's ancestors are from. (Recommended for ages 3 – 6)
Someone New by Anne Sibley O'Brien
This followup to I'm New Here features the same characters but tell the story from a different perspective. In I'm New Here, we heard from Jin, Fatimah, and Maria what it was alike to adjust to a new school in the United States. In Someone New, we watch Jesse, Jason, and Emma's figure out how to welcome their new classmates despite barriers of language, and at times, prejudice. (Recommended for ages 3 – 6)
Hands Up! by Breanna J. McDaniel and Shane W. Evans
When race conscious adults hear the phrase "hands up," we likely also think of the words "don't shoot," chanted at so many Black Lives Matter rallies. Author Breanna McDaniel thinks of how "hands up" signals activism, but also many daily activities in a young Black girl's life. When she plays peek-a-boo, when she stretches up to the kitchen sink, and when she begs her siblings to choose her for a game, her hands go up.
The final scene of the book shows her declaring "hands up!" at a rally, where marchers hold their signs high, covered in slogans that remind us to raise our hands and voices for justice. (Recommended for ages 4 – 7)
Skin Again by bell hooks and Chris Raschka
bell hooks' books about race and feminism had a big impact on me in seminary, so I was delighted to discover that she's also written several children's books. This simple book features two children, one Black and one white. We're reminded that "the skin I'm in looks good to me. It will let you know one small way to trace my identity. But then again, the skin I'm in will always just be a covering. It cannot tell my story."
The story invites children to come close so that we can be real to each other and know who we truly are. As a white parent, I use this book as one of several books about race, but I wouldn't use it by itself. It needs to be combined with other books that take a deeper look at racism. But especially when my child reflects society's racial stereotypes, this helpful book can remind us that race doesn't tell us everything about a person. (Recommended for ages 4 – 7)
When We Were Alone by David A. Robertson and Julie Flett
There are several children's books about race that address the tragic legacy of Indian boarding schools. This one is the best story I've found for very young readers.
As a young Cree girl spends the day with her Nókom (grandmother), she has many questions about why Nókom does the things she does. Why does she dress so colorfully? Nókom tells her that when she was a girl and was sent to a school far away from home, they had to wear dark clothes. But sometimes, when the children were alone, they would roll around in the fall leaves, so they could be colorful again.
Each question reveals another aspect of the tragic history of boarding schools for the First Nations peoples of Canada, but in a way that is age appropriate for young children. I love that Nókom always shares a way that the children resisted their oppression and remembered who they were, when they were alone. (Recommended for ages 4 – 8)
Don't Touch My Hair! by Sharee Miller
There are several good children's books about race and hair. I chose this one because it has an important message for Black girls who are proud of their hair, and for non-Black children who need to learn not to objectify their friends and classmates.
Aria loves her soft and bouncy hair that "grows up toward the sun like a flower." Other people love her hair too, but in a way that doesn't always make her feel good. They keep trying to touch her hair without permission. She imagines all the ways she might hide her hair, like swimming underwater. But even there, a curious octopus wants to touch it!
Finally, Aria decides to stand up for herself, and tell people how she really feels when they touch her hair without permission. (Recommended for ages 3 – 7)
Black All Around by Patricia Hubbell and Don Tate
Society surrounds children will negative associations with the color black. Because young children are concrete thinkers, they're especially likely to transfer these associations to Black people.
Black All Around celebrates the beautiful color black from the warm and cozy night to the braided hair of a stately queen. As a young girl and her brother play, they experience black as gentle, imaginative, artistic and nurturing. (Recommended for ages 3 – 7)
We Came to America by Faith Ringgold
It's very hard to find children's books that truthfully acknowledge the many different ways people arrived in America, while also drawing attention to the fact that indigenous people have been here for thousands of years before America existed. The simple text and moving illustration of We Came to America do both of those things.
Readers learn that "some of us were already here. Some of us were brought in chains, losing our freedom and our names." Families of many ethnicities are shown coming to America to leave behind injustice, fear, and pain. Yet they also bring their "joyful songs, our stories wise and true." (Recommended for ages 4 – 8)
Download the kid-friendly race glossary for free
This easy to print PDF includes definitions of race, ethnicity, racism, and other related terms written with kids in mind.
You'll also get my kids and justice themed resources in your inbox each Tuesday. Don't like it? No problem. You can unsubscribe in one click.
Something Happened In Our Town: A Child's Story about Racial Injustice by Marianne Celano, Marietta Collins, and Ann Hazzard
This engaging and important children's book about race was written by three child psychologists. It's an excellent resource that helps caregivers talk to children about police shootings. The story follows two children, one white and one Black, who are in the same class at school. All the adults in town have been talking about a police shooting of a Black man. Kids have overheard their conversations, and have questions.
The children's questions prompt responses from their parents that unpack the legacy of racism in the United States, as well as Black resistance to racism. The story has a variety of levels, and children will experience it differently at different ages. The book also includes extensive notes for parents on countering racism, including resources specifically designed for Black families. (Recommended for ages 5 – 10)
The Name Jar by Yangsook Choi
One of the most important lessons we can teach young children about bias and racism is the importance of honoring each other's names and speaking them correctly.
Unhei is preparing for her first day of school. It was only a short while ago that she and her parents said goodbye to her grandmother in Korea. At the airport, her grandmother gave Unhei a special gift: a little block of wood that she soon learns is a name stamp.
But when Unhei tells the kids on the school bus her name, some of them say it wrong. Others start making nonsense rhymes. When her teacher asks her to share her name with the class a little later, Unhei says that she's going to pick an American name soon.
Classmates offer to help her find a new name, filling up a jar with suggestions. It's only when a new friend asks her about her Korean name stamp that Unhei begins to think about her name differently. (Recommended for ages 5 – 9)
Mama's Nightingale: A Story of Immigration and Separation by Edwidge Danticat and Leslie Staub
Although it's not an easy topic, children need to learn about the harm that the U.S. immigration system causes so many families. When Saya's mother is taken to immigration detention, Saya misses her voice so much that she listens to the answering machine message Mama leaves in Creole.
Once they're able to have visits at the detention center, Mama sings Saya the song of the wosiyol, a Haitian nightingale. When Saya becomes distraught after one of their visits, Mama mails Papa a tape of a bedtime story she's told for Saya. As Saya and her Papa fight for justice for Mama, Saya is comforted by the weekly tapes that Mama sends. (Recommended for ages 5 – 9)
The Wedding Portrait by Innosanto Nagara
Usually, Innosanto Nagara explains, we need to follow the rules. But sometimes, when we see something wrong, we realize that breaking the rules could help stop the harm that's happening to people.
In order to explain what's happening in the wedding portrait that hangs in his living room, Nagara first tells stories about when people broke the rules to protest injustice. We meet Claudette Colvin, a teenager who tried to desegregate buses before Rosa Parks took her stand. Readers learn how the people of India forced the British to leave their country. We also meet present day activists, like farmworkers in Florida protesting modern day slavery, and Bree Newsom, who climbed a flagpole to take down the Confederate flag. (Recommended for ages 7 – 11)
Download the kid-friendly race glossary for free
This easy to print PDF includes definitions of race, ethnicity, racism, and other related terms written with kids in mind.
You'll also get my kids and justice themed resources in your inbox each Tuesday. Don't like it? No problem. You can unsubscribe in one click.
Not My Idea: A Book about Whiteness

by Anastasia Higginbotham
Although this is a picture book, it is by no means simple and is best suited for older elementary children. Higginbotham made this book for her white children to help them grapple with how they can dismantle white supremacy.
The graphic novel style illustrations show a young boy who hears about a police shooting of a Black person on the news. But when he wants answers from the adults around him, he's told that color doesn't matter. This child already senses how his whiteness protects him in everyday interactions.
The book lets children know that they can face the truth about racism. While many white people participated in or ignored racism, the book also gives kids examples of white people who took action to support Black liberation. (Recommended for ages 8 – 12)
Middle grades books about race and racism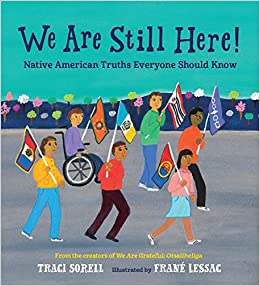 We Are Still Here: Native American Truths Everyone Should Know by Traci Sorell and Frané Lessac
I love Sorell and Lessac's collaboration We Are Grateful: Otsaliheliga, so I was delighted to learn they were working on an Indigenous Peoples' Day themed book for older children.
Children from a variety of different Native American nations are presenting key ideas from U.S. history, such as the forced assimilation of Native peoples. While adults and children may know about events like the Trail of Tears, the book also addresses history most non-Native people don't know about, like the relocation program that pushed many families off reservation land into cities during the 1950s. The activism of Native leaders, as well as nations' fights for religious freedom and self-determination are central to the book.
American Indian resistance to injustice is emphasize throughout the book, repeating the phrase "we are still here!"
Because each term is presented as a presentation from a child with a full page spread of illustrations, the book is accessible. There's also a helpful timeline in the back of the book, with other educational endnotes. (Recommended for ages 8 – 12)
Stamped (For Kids): Racism, Antiracism, and You by Jason Reynolds, Ibram X. Kendi, and Sonja Cherry-Paul
Where did racist ideas start? Who has spread them throughout history, and who has resisted them? How does history affect our present day experiences of race? How can kids spot when racist ideas are influencing their own thinking, and what can they do instead? This kid-friendly version of Kendi's adult book Stamped from the Beginning addresses all these questions and more.
Reynolds and Cherry-Paul have adapted the book in a way that's conversational, with short chapters that don't get bogged down into too much detail. Unlike many history lessons about race that only tell kids about slavery and the civil rights movement, children will learn how racist ideas have influenced every period of American history. (Recommended for ages 8 – 12, See also the authors' version for teens: Stamped: Racism, Antiracism, and You.)
Us In Progress: Short Stories about Young Latinos by Lulu Delacre
The children and teens who star in these compelling short stories come from many different heritages and circumstances. There's Marla, who worries about whether she'll develop diabetes like her mom, and becomes determined to join a local cycling group despite obstacles. We meet Luci, who takes her older sister's bullying for granted until her best friend and baby sister give her the courage to speak up.
Many of the stories relate to themes of immigration, identity, and racism. Frank has always been encouraged by his grandfather to be proud of his "Spanish blood" and look down on Mayans and other Indians. But when he meets a K'iche girl seeking aslyum, his prejudices begin to crumble.
Carla has recently discovered her older sister Esperanza's secret. Unlike Carla, she is undocumented. But a flyer Carla sees about the DACA program gives her hope that she can help Esperanza.
When Emilio's older brother has a seizure because of his epilepsy, Emilio calls 911. When the police arrive, the results for his brother are disastrous, and the family has to grapple with choices no one wants to make. (Recommended for ages 10+)
The Parker Inheritance by Varian Johnson
Kids can sometimes have trouble understanding that in the timelines of our nation's history, Jim Crow segregation ended not that long ago. The Parker Inheritance, a mystery novel of sorts, helps bring that truth home.
Candice's grandmother was the first Black city manager for the small city of Lambert, South Carolina. But she was pushed out of her job after she did something no one in town could make sense of. Candice doesn't understand either, until she finds a letter addressed to her grandmother about Siobhan Washington, a young Black woman who was forced out of Lambert in the 1950's. Candice has to know more.
The letter promises a reward to anyone who can solve a puzzle related to the injustice Washington experienced. As Candice and her friend Brandon investigate, they not only uncover ugly truths about Lambert's past. They also see how the legacy of racism continues in the community today. (Recommended for ages 10+)
In the Footsteps of Crazy Horse by Joseph Marshall III and James Mark Yellowhawk
Jimmy McClean gets teased by white and Lakota students alike at school. With blue eyes and light brown hair, others question whether Jimmy is really Lakota. Jimmy's grandfather tells him that there was once a great Lakota leader who also had brown hair and light skin: Crazy Horse. Grandpa suggests that they take a journey this summer, to visit all the important places where Crazy Horse made history.
There are few books that tell children important events in U.S. history from Native American perspectives. This slim novel does that in an incredibly engaging way. Marshall doesn't sugarcoat the violence of this history, but he also tells these stories in a way that's appropriate for tweens and teens. What was most meaningful to me was watching the ways that Jimmy was changed by learning the history of his people. (Recommended for ages 10+)
Young adult books about race and racism
Rain Is Not My Indian Name

by Cynthia Leitich Smith
Since her best friend Galen died in a car accident, Cassidy Rain Berghoff has decided she's not interested in interacting with the rest of her small Kansas town. Her aunt Georgia wants her to participate in a youth Indian Camp she's put together, but that would involve leaving the house every day. It's only after Galen's mom wages a campaign against the camp that Rain decides to come out of her isolation.
Like all of Cynthia Letitich Smith's books, this novel challenges stereotypes about what it means to be Native American. It also raises questions about how young indigenous people can embrace their heritages in a society oriented to whiteness. (Recommended for ages 13+)
American Born Chinese by Gene Luen Yang
American Born Chinese is a perfect example of the complexity that can be expressed in a graphic novel, even though the whole book can be read in a couple of hours. Yang intertwines multiple story lines that eventually come together. There's Jin, a Chinese American student in love with an "all American" white girl. We meet the Monkey King, who's rejected by the immortal gods in heaven, even though he's been mastering the heavenly disciplines for thousands of years. And there's Danny, who hates it when his cousin Chin Kee comes to visit each year, ruining his relationships at school.
The book helps us understand the impact that racism has on identity and self-esteem. Many teens will need some help from a knowledgeable adult to be able to unpack the themes of the book, especially understanding the role of an over the top stereotypical character. (Recommended for ages 13+)
The Hate U Give by Angie Thomas
Starr Carter is a teen who's an expert at code switching. Each day, she puts forward two different versions of herself. One for her the poor Black neighborhood where she lives, and other for the private white school that she attends. Compartmentalizing her life seems to work until her best friend Khalil is shot by the police while Starr sits in the passenger seat.
Starr's school friends don't realize that she knew Khalil. When her friend Hailey suggests that Khalil was a thug, Starr can no longer ignore Hailey's pattern of racist assumptions. As Starr grapples with her relationships at school, she must also deal with the police and with activists who want her to become part of their cause against police brutality.
I can't recommend this book highly enough for teens and adults alike.
Also, be aware that the movie version, which was adapted by a white screenwriter, distorts key aspects of the book. (Recommended for ages 13+)